Why do startups fail even after substantial funding?
0 replies
Shivaranjani
31 Oct, 2017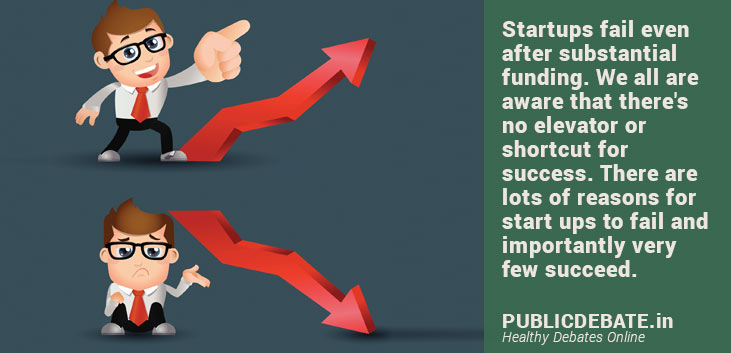 Over the last couple of years, startups are growing rapidly.
With the dozens of CEO's and Founders building strategies and funding plans, there are common set of reasons startups struggle and fail, at the same time there are set of reasons why some startups are successful.
As an entrepreneur, many have made mistakes, pretty simple mistakes. At the same time, some are lucky enough to succeed too.
There are lots of reasons for start ups to fail and importantly very few succeed.
Majority of startups fail. This is infact a hard truth, but one can do well to meditate on.
There are some significant causes of success. There are plenty of characteristics for successful startups.
First thing while starting a startup – Question yourself about the product.
Is the product perfect for the market? Most of the CB insights reported the top reasons that startups fail' They make products based on want lack of market need for the product is the single biggest reason for their failure.
It's important to spend your time picking the right product for the right market.
Many Startups get VC funding, Seed funding yet Why do startups fail even after substantial funding? Many founders fail not because of insufficient funding.
Most of the business fail considering market research. Never ignore anything, any idea or any business process.
Things are more organic in startup, meaning the responsibilities and roles overlap. Small things can turn into bigger things.
Some of the most important aspects of start ups are addressing the issues of business process, business models and scalability.
It's always important for the entrepreneur to catch up with the business. Getting caught up with little things like presentations, phone calls, emails and meetings can distract the heart of the business.
It's important to monitor the business on daily basis. Perfect marketing strategies and the product management and research makes a great difference.
Most of them feel running out of cash cause a startup's failure; remember it's just a symptom of another issue.
Excluding instance of stupid spending the other reason could be the inability to raise capital in the first place, startups run out of cash when CEO has unnoticed all the other indicators of failures.
On the other-side most of the founders are ignorant about the business strategies. They are more fearful to take up bigger projects for various reasons.
The least interest of business development and developing the company can also led to failures.
We all are aware that there's no elevator or shortcut for success. One step at a time, persistence and passion are fuel to be successful.
Remember success comes only to people who are constant learners, hard working, no matter what stick to their discipline. Learn from the failures of others.
A successful entrepreneur who raises up and gets recognized only after he is successful. No body would know an entrepreneur would be successful during his struggling journey.
So here is quote from Napoleon Hill who extensive researched world's richest and successful men during his time. Hill says do what you love, or else you will lack the energy to become truly successful.