Smart Cities good or bad for future?
0 replies
Shivaranjani
31 Oct, 2017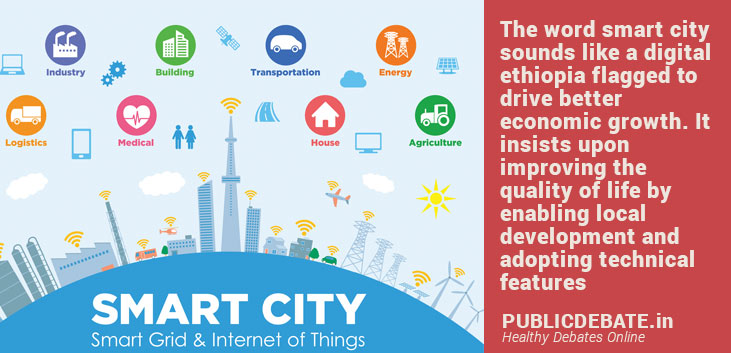 The concept of the smart cities is gaining attention around the world. The word smart city sounds like a digital Ethiopia flagged to drive better economic growth.
It insists upon improving the quality of life by enabling local development and adopting technical features.
In order to create better and smart outcomes for citizen's government is way ahead to adopt smart city strategy.
The main aim of these Smart cities is to deploy innovative technologies by delivering public services and make a better use of data.
With the objective of becoming more sustainable and prosperous smart city idea doesn't seem to fade away.
It gives a significant push to economic growth and real estate developments.
The key components of the smart cities are energy storage, building efficiency and efficient transport and communication systems.
The concept of the smart city is technological, autonomously, and self sufficiently driven.
Let's take a good example of the smart city says water management. Wastewater recycling and smart metering can make a considerable contribution. As it's more technologically driven the solution of water is solved easily.
To some extent, the smart city can make citizens to lead a better lifestyle.
Before we get too excited, let's examine indicate the problems too? So how far is the idea of the smart city good?
Firstly smart cities are based on data it leads to sensory overload! If you want data, you need sensors.
It's not like street lights, buildings and roads wake up magically.
We need sensors to see, hear, feel, taste and feel. Well, sensors will measure temperature, traffic, and foot traffic and infrastructure integrity among many other things.
Let's say: if you have 1 million people deploying sensors, each person needs a million of them within three years.
While smart cities provide new opportunities, it will also lead people to give up their lands.
It can displace people or communities. Deforestation – Forest land and ecological zones will be shrunk for infrastructure.
Above all, it leads to environmental upshot for any construction project.
But once built, they lead to economic benefits. Smart cities take through sustainability they are sure to protect the ecosystem.
A vigorous governance structure, which allows for sharing financial resources between local and private sector stakeholders, would go a long way towards pacific fear.
Critical issues of skill building for local bodies have to be addressed if not they are sure to lose jobs.
The concept of smart cities in India is both vast and rational; their implementation within the context of socioeconomic context might be difficult.
However the rapidly developing economy, the country can doubtlessly keep up with the global standards.
Smart Cities good or bad for future?
Don't Care
×