Business ethics are passing fad today
0 replies
Shivaranjani
31 Oct, 2017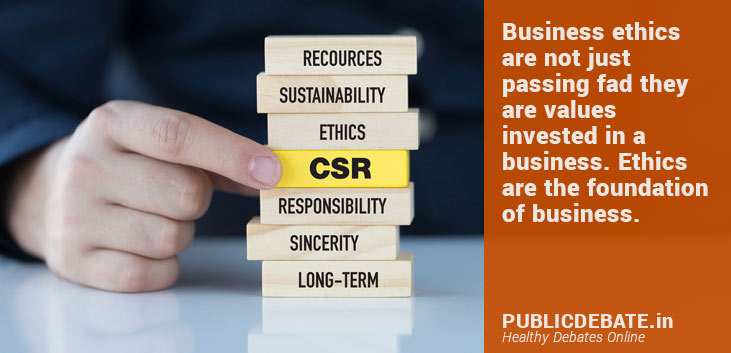 Business ethics are not just passing fad they are values invested in a business.
Ethics are the foundation of business. When an organization follows ethics, employees feel motivated to work in the organization.
In order to keep the employee's more organized ethical values are important.
Say for example some companies have a vision of delivering the 'product or services to customers, not under any cost'.
This shows the organizational ethics and they have invested values and ethics in their business and branding.
Another example of ethical business is having some concepts created within the organizational domain.
Some companies work on the positive thoughts and ideas or things which keeps employees with the free mind and positive attitude. This is, in fact, a perfect example of business ethics are which is followed still today.
Some concepts make employees happy, in that way you're given the best. Your customers are happy and you are happy with what you are doing.
Though people argue that business ethics is difficult to implement.
Ethics in business are more specifically designed for organizational development. Ethics are souls of any business.
If the organization can't resort to ethical values business won't be a sustainable one.
If we take instances. Whenever we visit any cosmetic store we find a salesperson across the counter to help us in someway.
Now, because of the changing trends, some of the organizations believe in business ethics.
Due to the competition, everyone is heading long way to win a race. People forget ethics while they are more competitive.
People who want to grow via shortcuts mostly practice this. However, while opting for shortcuts, success is not long term.
So one has to develop strategic decisions towards the shortcut ideas.
Ethics are difficult to follow. However, it helps to get successful results and develop employee engagement and customer relations which is more important than making profits.
Ethically developing the organization makes more sense.
Ethics in Business are passing fad today
Don't Care
×