Pakistan behind the Kashmir Conflict
2 replies
Manoj
20 Oct, 2016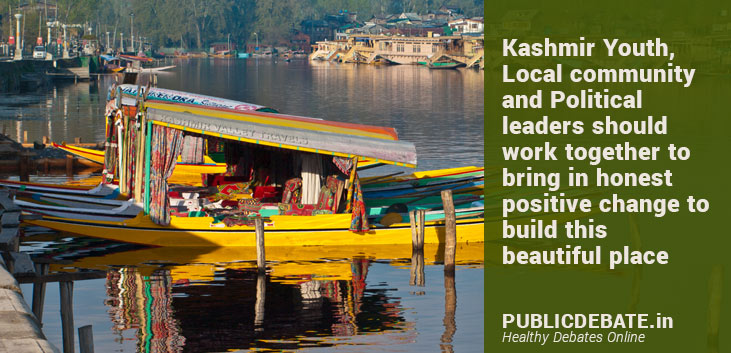 Kashmir – An Heaven on Earth. The beauty of Kashmir is its rivers, serene lakes, spring with magnificent snow capped mountains, lush green trees with vibrant flowers. Rustle breezes when u pass those magnificent pine and birch forests. Politics of Fascism with unseen hands (Pakistan) behind Kashmir conflicts. Mixing up different issues there are continues Unrest, Protest and shutdown affecting the life of kashmiris.
Pakistan should rather worry about their own internal issues, which is where the real issues lies. Don't spend so much time analyzing Kashmir which is part of India.
Earlier Hindu and Buddhist rulers ruled the Kashmir region, later it came under Islamic ruler's attacks. As Islamic empire (Mughals) disintegrated. Following the first Anglo-Sigh war Kashmir was given up to Raja Gulab Singh who took the title of Maharaja of Jammu and Kashmir. British rule ends in 1947 where India get its Independence partitioned with Pakistan. There after the Jammu and Kashmir being the largest princely states had diverse population Hindus, Muslim and Sikhs but predominantly 77 percent Muslim population was ruled by Hindu Maharaja Hari Singh. According to the Indian Independence Act 1947. Rulers of Indian states were thereafter left to choose to stay with India or Pakistan or remain independent. Maharaja Hari Singh decided to stay independent. Mohammad Ali Jinnah founder of Pakistan made various efforts to persuade Maharaja Hari Singh of Kashmir to join Pakistan. Maharaja was in a dilemma whether to join India or Pakistan as his state's Muslim population would be unhappy if they join India and on the other hand Hindu and Sikh population would be unhappy if they join Pakistan. As per the Observers and scholars – Pakistan confiscate Kashmir by forcing some of its Muslim league agents to encouraging the local Muslims to revolt. Due to Pakistan invasion outnumbered Maharaja's troops, he made an urgent plea to Delhi for military assistance. Accordingly, before sending troops Maharaja had to sign an instrument of accession on 26 October 1947 which was accepted by then Governor general of Government of India.
Source: Kashmir Conflict
Pakistan is one of the poorest and least developed countries in Asia according to 2015-year trading economic reports.
Source: Trading Economics 2015 Report
My only question here – Is Pakistan a really developing nation? Unfortunately, even after partition and Independence. Pakistan is still an orthodox state and one of the least developed countries in Asia.
It is more likely, Pakistan creating issue out of Kashmir time and gain than solving its own unresolved issues and internal corruption. Above all a rogue faction within the army – Military coups in Pakistan All these shows directly or indirectly Military remains dominant political player in Pakistan and involved in Key decisions like Foreign policy to economic management within the country are determined by Military.
Mixing up different issues there are continues Unrest, Protest and shutdown affecting the life of kashmiris. Kashmir for its beautiful nature is termed as Switzerland of India.
Kashmir Youth, Local community and Political leaders should work together to bring in honest positive change to build this beautiful place and work towards making it the best tourism place in Asia.
What is your argument points for and points against? – Share!
Is Pakistan behind the Kashmir Conflict?
Don't Care
×