Is Nepotism a synonym for Corruption?
0 replies
Shivaranjani
24 Oct, 2017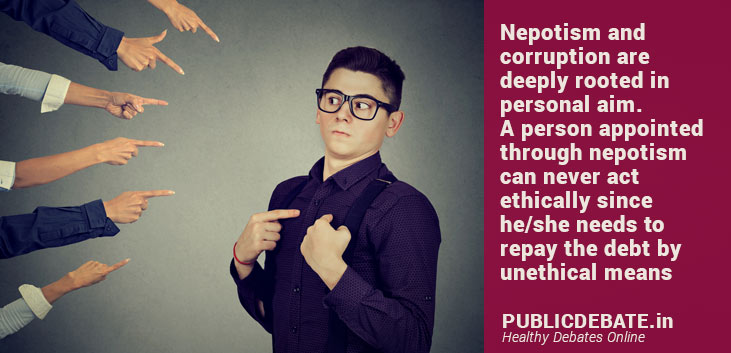 Bollywood celebrities have given their cents on nepotism since few months. Not just in film industry most of them debate on nepotism. In fact, Nepotism and corruption are deeply rooted in personal aim, it is kind of unethical familial relationships and urges to gain or achieve something in a shorter span.
In some aspects, they may also lead to higher efficiency and economic effectiveness. It's more of preference shown to close friends and relatives. This practice is common in public service sphere too. In one way corruption is deeply rooted in nepotism.
A person appointed through nepotism can never act ethically since he/she needs to repay the debt by unethical means.
There must be fairness and equality when considering a selection to a job, opportunity or working for development. But nepotism or favoritism are creating barriers and making, entertainment world, government organization, policies etc substandard.
On the other hand, corruption is against the ethics. From job selections to government benefits and allotments are kind of influencing the corrupt activities. When viewed in another way every person is entitled to benefit that others do from using public services, food, business etc.
One cannot benefit or deprive others opportunities just because he or she is having benefit. Any right must be equally distributed.
Corruption in simplest form is someone how gets a rupee without working. Nepotism and corruption both complement each other and over time people take over departmental ethics. In fact, it is closely connected to corruption it grabs power, status, and job
It sets bad precedents in front of hard working candidates. Corruption is equal to influence, favoritism only then can someone love to get your job or any position. On the other side, it can't be linked to all the corrupt activities.
In one way it is associated with favoritism leading to corruption. The effect of nepotism degrades the quality of work, job, society, and inequality. Well, it's good to favor someone who is helpless until and unless he/she deserves.
It creates dissent among the hardworking people who are in need. It creates more differences between people.
Is Nepotism a synonym for Corruption?
Don't Care
×