Dangerous Online Games-How to Protect Our Youth?
0 replies
Shivaranjani
24 Oct, 2017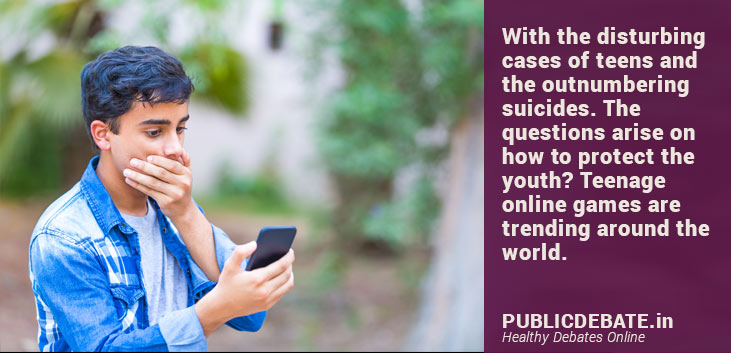 Teenage online games are trending around the world. Online Games like Blue whale and slender man is causing anxiety among the parents. The sadist part is that youths are unable to differentiate between online manipulation and real life. To some extent online games are wrecking youngster's life.
Recently in the month of November, the so called Blue whale challenge originated from Russia. This game has lined up more than 100 teenage suicides in Russia, Central Asia, and Europe. Drawing parallels to this the Slenderman game in the US, this is one of the infamous killer games that can be played online resulting in horrifying crimes.
With the disturbing cases of teens and the outnumbering suicides. The questions arise on how to protect the youth? In one way some games are impossible to differentiate between online manipulation and real life.
With the advent of social media, the internet has become a source of influence to youngsters. Unfortunately, they are targeted with manipulation it's curated in such way that if a teen likes or accepts the challenge he/she is offered rewards for success for completing the mission.
Like adults teens too need emotional support to reject games such as Blue whale or any other dangerous online games. In order to prevent the dangers parents, society and media as a vital role to play.
Firstly, Parents have to watch out and provide support to kids.
Look out for common signs and worries that stop them from carrying out daily tasks. Help kids engage in better activities like outdoor games or their stream of interest this can keep them away from online games.
Create awareness most of the teachers are aware of self-harm and mental illness. Speaking to them kind of helps them to cope up with the issue. One should communicate clearly about his/her well being. Make some time and allow the child to actively listen to you.
Best way to protect youth's from the dangerous game is through web safety. Surf the web safely and prevent them from engaging online abuse through web safeguards. Openly talk about the things that concern them online or otherwise.
It's always good to intervene and allow kids to express their feelings and concerns. On the other hand society needs to reduce the stigma of mental health issues. Know how to interact with youth's, act as a supporting mask.
A bad academic performance or being treated badly can make them vulnerable to these games, one should support the other to overcome these habits and condemn them across the community. Social media sites need to have stricter laws in order to depict such lethal games.
Some games attack young teens using mind manipulation. If games are capable of manipulating the mind why can't parents or community change the youth's mind?
In fact, nothing has to be overdone when should know to communicate and safeguard youth's through better strategies. Society, parents, and media need to join hands to safeguard youth's against such online games.
What makes the youth's to participate in dangerous Online Games?
Don't Care
×