Mobile Network providers or Social networking forcing Data service on Users?
0 replies
Shivaranjani
11 Jul, 2017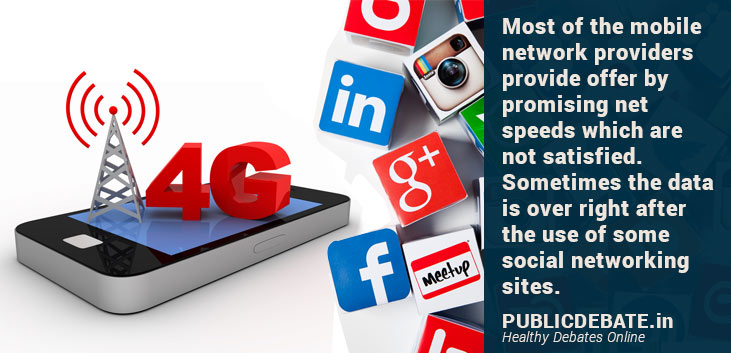 There is an arbitrary use of data with the number of offers offered by the mobile network providers. Some networks offers are made affordable. Never to forget mobile data services are generating new market ideas to make revenues. With the increased use of social networking sites who is benefiting the most?
Data packs have become more rewarding with the advent of 2G and 3G data services. The exclusive data deals are highly competitive. With the technical advancements, mobile operators are focusing more on grabbing the services due to the increasing use of the internet.How are they benefiting?
For example say you adopted a service provides data pack, speed and plans to cover all the benefits. These plans are more than enough for data covering, web surfing and streaming songs on YouTube, Facebook, Whatsapp etc but you may not realize that browsing on these social networks is a big hit against the chosen data plan.
The Problem is 90% of us use prepaid mobile networks some postpaid subscribers get 30 days validity for usage, for prepaid customers, it's valid for 28 days on every internet packs. So imagine the margin amount of looting done by mobile network providers with all the validity concepts.
In addition to this say you recharged a prepaid 3G data pack without nonstandard 28 days validity, its simple you're forced to recharge 13 times a year.
Say if you spend an hour on social networking site you will be using 2.7 GB data a month. This could be more than 1.45 GB on daily days also a lot of usages are likely charged through Facebook or videos appears based on the variety of Newsfeed on Facebook. Seems like both of these aspects are equally bombarding with data use on customers.
Jio is one such mobile network provider who has changed the India telecom landscape by provide cost effective tariff plans, which has forced other services providers to slash down the price. This is very good for consumers.
One way to avoid the data usage is by turning off the autoplay option of videos. When you're using some apps, mobile games change the setting to WiFi options. Most of the mobile network providers provide offer by promising net speeds which are not satisfied. Sometimes the data is over right after the use of some social networking sites.
With 28 days of validity how much it would cost for a subscriber for a number of internet usage. Ones the usage exceeds customers are charged again. If the subscribe haven't used the data usage anytime by the validity service can't be used.
So say you use 30 days validity pack over a year, you may lose five days in a year, but more of the mobile network providers have 28 days offers only. So on what basis are we charged? Who is benefiting the most?
Do Mobile Network providers chargeData service on Users?
Don't Care
×