How to resolve arguments and anger issues in a relationship?
0 replies
Shivaranjani
22 Sep, 2017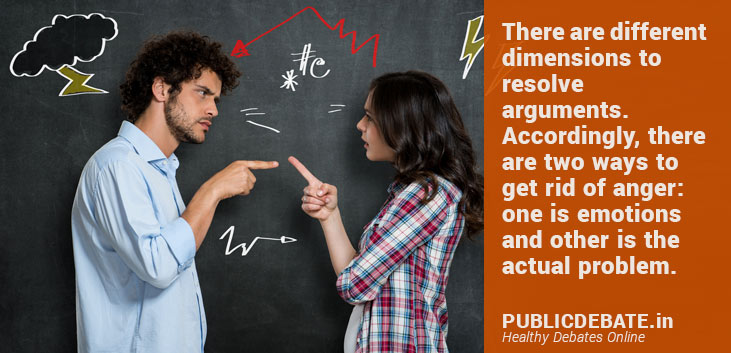 Anger issues in a relationship – Arguments are inevitable every relationship slips to arguments. No matter how much you love each other, you'll argue. It's common when two people are together for a long time they find something to argue. Being frustrated or angry with your love doesn't have to be destructive. In fact, it's a good thing in a relationship. As long as you learn to manage an argument it's all fine. However constant arguments aren't better than none at all.
There are different dimensions to resolve arguments. For say what seems appropriate for me won't be the best deal for others. Every relationship has its own unique challenges to deal with the problem. So what's the common key to resolve an argument? There are different relationship dynamics that require different approaches. Isn't it important to understand others situation while arguing?
Should we hold on to our emotions and situations?Accordingly, there are two ways to get rid of anger: one is emotions and other is the actual problem.Say,you're angry with your partner for not cooking. You have two ways to solve it: the dish needs to be done or find a solution and you don't have to be upset for not doing it. It's a matter of simple thing
On the other side, one should learn to prioritize problems and deal separately. Before telling something put it across nicely 'for the love of crap, could you please make a dish for once?!' Common you're not that irrational person to make the productive discussion difficult.
When it comes to anger management, you should know your way to chill out. If you fight with your loved one, take a minute to deal with your stress. Go for a walk, do something to bring your anger down, write an angry note and destroy it. When your clam you can approach the problem rationally. Come back and take a collaborative approach. If you don't discuss together than happy relationships get harder.
If you have healthy discussions about the issue, it takes a reward to your relationship. Instead of settling for anger try solutions, try alternatives, try speaking and calming down. Nobody has to hurt each other's emotions when discussed together. It makes a difference when both are settled over discussion instead of arguments. Every relationship needs to get better than yesterday because you both love each other crazily. Don't break it through anger!
Is it important to stay calm and find the cause of the disagreement?
Don't Care
×