How effectively is television building the minds of children?
1 replies
Shivaranjini
09 Apr, 2017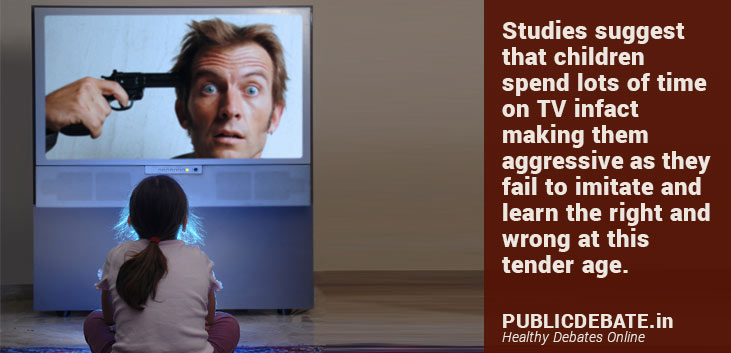 Is television good or bad for children in building their minds. Just like phone, television is a wonderful gift by science, catering the daily requirements everything around the world is updated on this set. Well children's are the ones who enjoy visual pleasure on TV that is available at anytime anywhere ready to entertain with their favorite cartoon characters or favorite star or any shows.
There are lots of platforms today that exhibit the talents of the kids at the same time help mould them with knowledge by different concepts and information in fact visual learning can help them analyze, think and grasp quickly. They provide everything from teaching languages to bashing ideas, striking imagination etc everything can be learnt at a very short time. Well the question is how well are they building the minds of the children? How organized are the animations and cartoons aren't they addictive?
Apart from all the benefits from TV, studies suggest that children spend lots of time on TV in fact making them aggressive as they fail to imitate and learn the right and wrong at this tender age. Well it's good in moderation but too much of TV can have an opposite effect. Children need some form of entertainment beyond TV if not that can cut them away from realities. With all the benefits TV is yet another con to child's behavior and most of the good attitudes and aspects of values are possible by socializing that can help develop a right thinking ability.
Not that they are bad in fact it's all about monitoring the content and what they are made to watch. Some content representation in TV can affect the behavioral habits of a child. Children are quick to learn and imitate, these imitations can affect their growth because TV doesn't teach them everything and anything and what not are good and bad that are thought by the family and societal norms.
There are many other pros and cons of TV however the effectiveness to build a child's mind is completely dependent on the process of monitoring the content they watch and what they watch.
Do you agree television can help build the minds of children?
Do you feel there is a need to monitor the content and time for children to watch TV?
Don't Care
×