Which is the most necessary element for success in life – Knowledge or wealth?
0 replies
Shivaranjini
17 May, 2017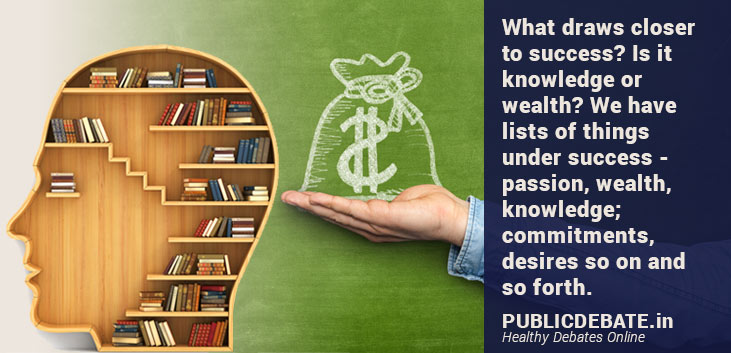 Knowledge or wealth – most necessary element for success in life. We are living in an atmosphere, which consist of family, home, school, religion, culture, tradition and beliefs. With social and political environment, all of these aspects draw closer to life.
But what draws closer to success? Is it knowledge or wealth? We have lists of things under success – passion, wealth, knowledge; commitments, desires so on and so forth.
So, what is more important? Is it wealth? Can wealth buy knowledge? So, one may say if you have money, you can achieve your goals, it helps hiring people, facilities to create projects and achieve success. But without knowledge can we achieve something successfully.
At times, some successful people have also been consistently acquiring wealth by using knowledge. In border sense knowledge doesn't require qualification or a degree.
It just denotes the practical thinking acquired through any medium and using it for fame, name, power and wealth. Our own Ambani is one such example, Steve jobs is another example.
Also, wealth is equally important but how much does it render towards success. For every individual, a practical knowledge is must only then can he or she start. So, the fact is that knowledge is learnt through experience, certainly it's very important for any field. This can lead towards success to make wealth.
Knowledge is very hard to lose, to lose wealth it's easy. Knowledge helps you teach beyond wealth say culture, values, thinking, attitudes etc. Wealth can explore you to these aspects when blessed with knowledge. Infact that's when you know what is right and wrong it makes you think not that wealth wouldn't, if you lose wealth you lose everything, if you have knowledge you can regain everything possible.
Knowledge has the authority to create wealth. Despite the fact we can't measure knowledge levels but for sure it has a significant role to play in our lives. Through experience and opportunities, you learn to lead towards wealth. Like it is said 'Knowledge is money'. It based on the knowledge you can put forth your idea in creating wealth.
Its true knowledge helps draw more vision and spark the thinking skills but the supporting part wealth is also important. It urges you to get richer, comfortable and lead a peaceful life. If the concept of wealth wasn't existing not all would have been urging towards success in life. Wealth too teaches the value of using and spending on what and not infact knowledge is a supporting factor that helps you land in the right way possible.
Knowledge and wealth have equal value for every successful person. All you need to do is balance them equal. When knowledge teaches the basics of life wealth leads towards the dream life. They are interconnected.
But, one should remember that meaning of success is defined on his/her own terms. It is all in on how you balance both the concepts to lead a successful life.
Do you agree- Both knowledge and wealth is equally important for a successful life?
Don't Care
×