Is MBA mandatory for a person to be successful in business?
3 replies
Shivaranjini
16 May, 2017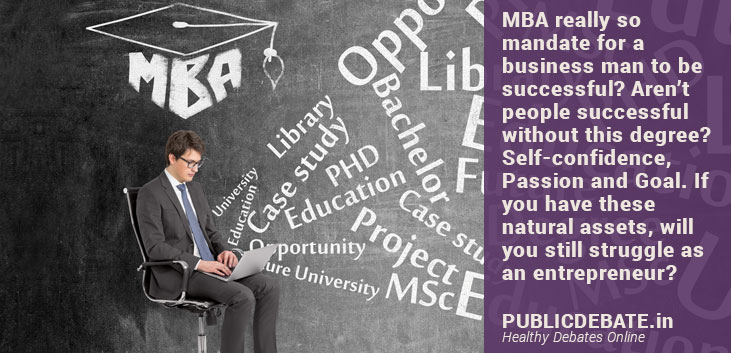 So many people in India are depending on business. Is MBA mandatory for a person to be successful. Meanwhile every business sector in India is playing a vital role to develop Indian economy. With the same viewpoint as observed the number of Business administration courses is bursting high.
MBA is among one such master course that even engineering graduates, tend to take up after the degree. With the number of students enrolling for MBA every year seems like the course has lots to offer.
MBA definitely helps to draw huge pay packages. Infact its successful attributing towards the management skills. But still is MBA really so mandate for a business man to be successful?
Offcourse undoubtedly every degree as its own value. Same way MBA acts as a ground area of entrepreneurship absolutely helping to master the tricks and acumen that are necessary to handle business segments.
As the operations help sharpen managerial skills, soft skills and entrepreneurship understanding finance, marketing and strategies, Is it still mandate to hold a MBA degree?
But business man like Sir Richard Branson, Founder of the Virgin group, is not an MBA holder. In India to name a few are people like Dhirubhai Ambani, Ratan Tata, Karsanbhai Patel is the man behind big brand Nirma.
Today even though Mukesh Ambani did attend Stanford University for MBA had to discontinue his studies to assist his father in family business, doesn't have a management degree and yet they are all very successful and build world class business empires.
So apart from holding MBA degree is it important to possess self-confidence, passion, goal, need to have a dream for independence, energy and ability to communicate ideas.
If you have these natural assets, will you still struggle as an entrepreneur? Aren't people successful without this degree?
Do you agree MBA is not mandatory for a business man to be successful?
Don't Care
×