How should the child's behavioral problems approached?
0 replies
Shivaranjani
22 Sep, 2017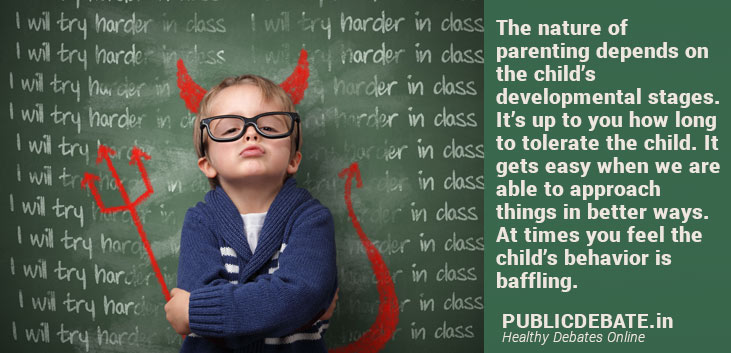 child behavioral problems you shouldn't ignore. If your child acts out of control you must have probably felt the child is acting inappropriately. Once a kindergartner becomes a child and plays rough or acts in his own way', parents often find faults. Yes, there are many difficult behaviors that young child display including pushing, fighting etc which are all normal for developmental stages.
It's up to you how long to tolerate the child. When things are calm look at them and say what is wrong and how it hurts. Tell them what their consequence will be if they hurt. Try to spend time with your child watch them closely and see when child becomes upset and coach him in the right way. However, consequences alone will not change the child's attitude but use it to practice the skill will develop the behavior.
You need to address these issues in a more certain way. One has to work at home to develop the child's behavior. As parents, you need to coach, teach and hold them on their behavior. The nature of parenting depends on the child's developmental stages. Knowing what is normal, what is appropriate for a child can smoothen the path for everyone.
We are ready to hang to the dramatics even with all of our experience and a developed brain our capacity is around the corner it's hard sometimes. We have kids frustrated, unwilling to socialize etc. Some choose to stay back alone or spend time on gadgets. Understanding what your kid needs is very important this can help them deal with their behavior easily. For example, say if you review their developmental goals and help them can make a difference. One should track the child's developmental activities and deal appropriately.
Things will get better when you support and give them space to do what they need. Of course, doesn't mean what we don't have boundaries in terms of behavior. What it means us responding with clarity and in most appropriate manner. It gets easy when we are able to approach things in better ways. Age is the guide for stages in life. You need to track them carefully.
At times you feel the child's behavior is baffling. This is completely a normal sign that child is flourishing and making way through childhood. Progressions through stage are more important than the age at which the changes happen. At last, as long as kids move on to the stages, it doesn't matter if they get slower compared to other kids.
Is it important to stay calm and find the cause of the disagreement?
Don't Care
×