Did success make standup comedian Kapil Sharma arrogant?
1 replies
Shivaranjini
29 Mar, 2017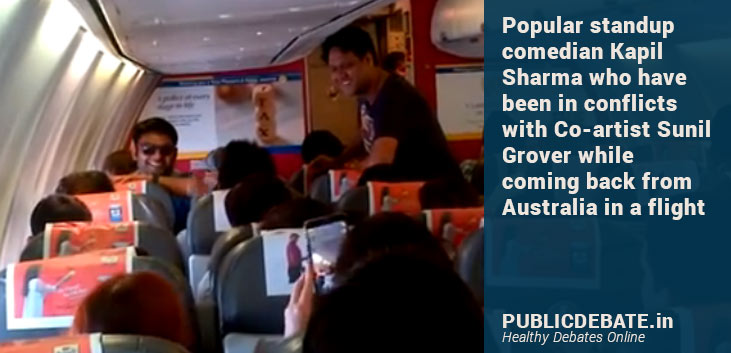 Image from Jagjit Singh Parhar YouTube Amritsar to Mumbai
Kapil Sharma shows can drive us crazy, spill with laughter's and what not. Here is what you have to know how future looks blur for Kapil Sharma after the mid air spat that happened in Melbourne Mumbai Air India flight leading to serious consequence between Sharma and Sunil Grover. One of the highest rated shows of Indian television have bad news continue to pour in as the popular comedian Kapil Sharma who have been in conflicts with Sunil Grover on sets and while coming back from Australia in a flight. While most of the actors are boycotting the show, now Air India is planning to warn the comedian.
The show that gained popularity to Kapil Shrama which has always boasted of with a strong bonding of the team work has been witnessing some ripple effects. It's said that despite of all the warnings from the crew, Kapil continued shouting and using swear words in the flight. Kapil not only abused Sunil Grover and other team members but also threw shoe at Sunil and slapped him.
From being boycotted by his team and celebrities backing off to promote films on his show, future looks dark and blur for the comedian. With all these problems Kapil Sharma is now quoted for his 'unruly' behavior for his major ruckus on Australia- India flight.
Mr Sharma rose to fame after winning the comedian reality show and now hosts the most popular show across the country called 'Comedy Nights with Kapil' under his production did success make him arrogant or the positions make him arrogant? Kapil shows were crowd loved with all his team efforts and ideas nonetheless he ran shows with his collogues, with all the synergy can the show happen successfully.
With Sunul Grover, Chandan Prabhakar and Ali Asgar boycotting the show, will the show gain back its glory?
Will there be a genuine support for him to fight back the popularity of the show all alone?
Share your thoughts
Source:
http://indianexpress.com/article/entertainment/television/kapil-sharma-to-get-warning-from-air-india-for-assaulting-sunil-grover-mid-air-4587263
Do you agree Kapil can't win the popularity of the show alone?
Don't Care
×