Is social networking building face-to-face interaction gap?
0 replies
Shivaranjani
17 Oct, 2017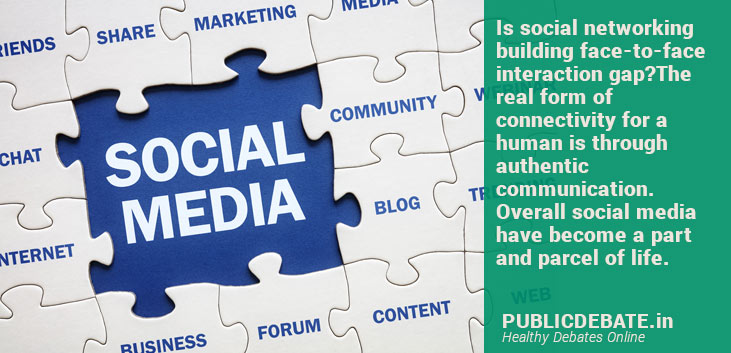 Is social networking building face-to-face interaction gap? The real form of connectivity for a human is through authentic communication. A Very little form of communication is based on a written or verbal word. Rest is based on nonverbal body language. Indeed, it's only when we hear a voice or look into someone's eyes we're able to know how they're, doesn't mean they're fine at all or what they actually mean.
Overall social media have become a part and parcel of life. Off course, social technologies have broken the barriers of time, space and distance helping us to interact 24/7 with people.
You can speak to anybody anytime from anywhere but like any other revolutionary concepts, social media has generated a set of new barriers. Is the focus now on face to face interaction or social media interaction authentic?
In an ironical twist, social media has the ability to make us less social. For all the effective communication social media is kind of replacing human interaction altogether.
Off course, overall the advantages social media have cut us off from making time for family or one's own self. Are we losing our sense of voice and touch? So is it killing the art of personal communication? Half a day of our weekend is spent on Facebook, Whatsapp, Messenger and networking sites.
We never make time to meet up people nor do we communicate with people at home. We spend hours chatting with the person nearby but never meet up this is how social media have changed the life.Sites like Whatsapp, Facebook, and Messenger have modified the communication strategies.
Almost all the sectors depend on these sites. Everything is caught on social networking sites, for example, say in the workplace the use of electronic media has taken over face to face communication. Two major forces drive this shift: the speed/distance of business.
People prefer to use instant messages or social media than stop by an office or turn around to speak to someone. Face to face interaction has many aspects to admire for example- it allows us to build trust, minimize misunderstanding it's authentic.
However, for many of us, face to face is replaced by text messaging, email, and social media. In one way online media makes life easy but it kind off allows manipulating the way others perceive us. The words we type characterize or define us which in reality can be different.
After all, be it business or friends trust is important. Often, social media or written communication can't fulfill face to face communication.
Social media has many merits and demerits but can't replace face to face interaction
Is social networking making us move away from face-to-face interaction?
Don't Care
×