How to balance with smoking and consider healthy lifestyle?
0 replies
Shivaranjani
10 Oct, 2017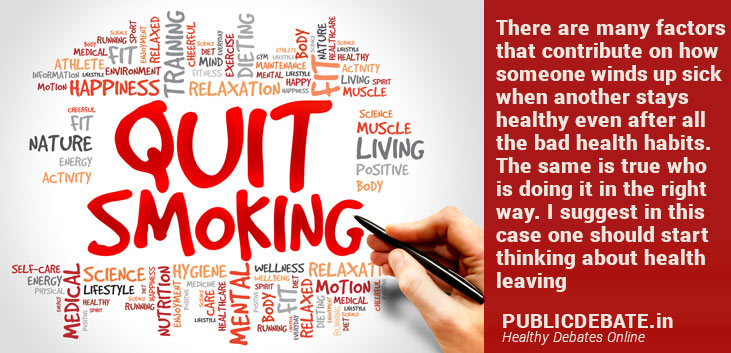 Does balanced smoking actually help? While lots of people battle towards the healthy lifestyle modifications. People try everything possible from consuming green juicing, exercising, nonsmoking, health food to junk food. I agree with them- what shocks me is how few are talking about the critical factors that relate to health- the factors that are even important than diet, cigarettes, alcohol intake, weight, and exercise.
Before this, let me start with the tip of all the medical wisdom. Yes, some diseases are preventable. Say if you smoke 3 packs of cigarettes it winds up with lung cancer, you're probably feeling pretty crappy about cancer because you know that if you smoke you wouldn't have saddled with cancer.
Nonetheless, if you've been eating at junk food every day, you shouldn't be surprised by getting a bypass surgery or heart attack. If you have been boozing for three decades you will definitely wind up with liver failure not to be harsh, but you knew that might happen isn't it? If you're three hundred pounds and you get diabetes, should I say more?
Yes, if you aim to lead a healthy life, diet, exercise, alcohol intake and cigarette use matter a lot. But there are few who say smoking, boozing, and have junk food and still tend to stay healthy. Some people say that's how their bodies are resilient to such poisons? Is it genetic? Well those are arguably say is it just luck or their body has more resistance poor.
There are many factors that contribute on how someone winds up sick when another stays healthy even after all the bad health habits. The same is true who is doing it in the right way. I suggest in this case one should start thinking about healthy leaving all the traditional confines and define health practically.
Well if you're stressed at work? If you're depressed? Try other means to eliminate your loneliness, cut back on the job stress and get happy? So how can you stay healthy while you continue to smoke? As usual quite smoking or reducing the number of cigarettes is probably the best way to improve your health. However, there are many other ways to balance health as a smoker!
Consider eating healthy diets remember you need to balance health while smoking is almost killing you. Try fruits and vegetables. Exercise, try all the exercise that provides healthy lungs and visit your doctor for checkups. Hook or crook cigarettes aren't the only solution to manage your stress. You can reduce stress through yoga, exercise or other leisure activities.
There are many health promoting factors to heal the problems. Nonetheless, smoking can reduce your lifespan. Remember there are ways to balance habits with health. There are many alternatives to lead a healthy life.
Is it good balance smoking and health or completely quit smoking?
Don't Care
×