Small changes a day to lead a better healthy lifestyle
0 replies
Shivaranjani
11 Jul, 2017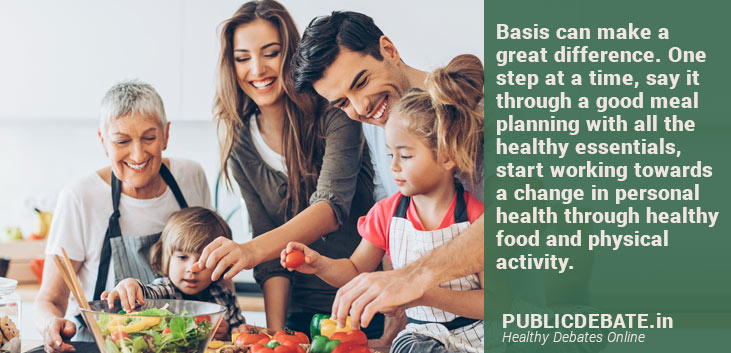 We all must have looked for an ideal opportunity to change a particular habit. For most of us, it's about tracking a healthy lifestyle. Getting started doesn't require big drastic measures to follow. The most effective way to witness a change is through a slow and steady approach that focuses on small little things these manageable steps on day to day basis can make a great difference.
One step at a time, say it through a good meal planning with all the healthy essentials. Apart from this portion control and exercises are few ways to start working towards a change in personal health through healthy food and physical activity.
The healthiest choice at home is planning a meal in advance this helps in saving some money and help people eat something healthy. Many people have no idea on what they eat, leading to an unhealthy lifestyle. Apart from this we often end up in front of the social networking sites or TV it's good to make some time and plan a good healthy exercise or a walk on a daily basis.
Like any other practices for a healthy diet meal planning does not need an overall habit. It's always good to start a change slowly and then do it as a routine. Some practices can be simple or complex, but people need to get more on choices to live a healthy lifestyle.
For example, say: While making a meal, try concrete on portion size. Using smaller bowls, plates can help reduce the amount of the food with this one can avoid overeating. These kinds of habits can help people eat healthy also by increasing the amount of vitamins, fibers, minerals in their diet by creating a better food model.
Exercise is also a personal change most people find it overwhelming, but the small modification can incorporate the actions. Exercise improves the physical function of the body. Keep up with better mental health, for example, yoga, meditation, etc. So find feasible, accessible and proven practices to stick with exercises for a longer time.
It's best to start with lower impact activities starting from beginner's fitness classes or a walk. Many of them feel walking is more progressive than try making it a routine. It's always difficult at the initial stage, but identify the time of a day that is less disruptive or away from responsibilities these small changes can make exercise fun and keep you away from all the problems and excuses.
All of these little things can lead to an overall healthier lifestyle. However, the most important aspect to healthy habits is motivation. Identifying small, little specific and realistic habits will help get started with new habits- The first step to a healthy lifestyle begins with you!
Small changes a day to lead a better healthy lifestyle?
Don't Care
×