Outsourcing is not a bad idea when balanced effectively
0 replies
Shivaranjini
09 Apr, 2017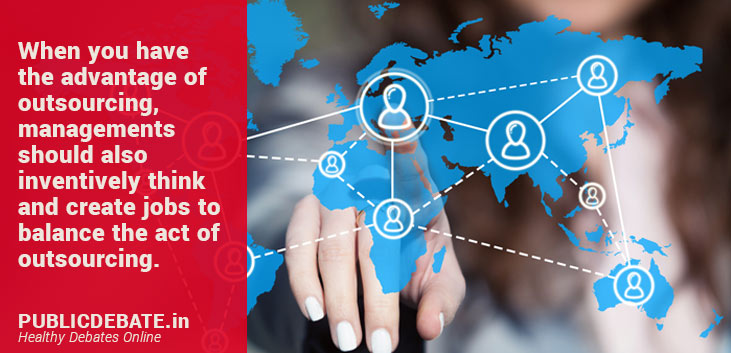 Outsourcing has become a major trend in human resources. The practice of maintaining and outsourcing job functions outside a company instead of handling in house. Largest to the smallest companies are turning to outsourcing as a way to grow and restraining costs and payrolls. But how can you make it happen for your business?
It's always a business strategy to have a check on the company and find out the basics of the firms individually catering services all though the excessive dependency can spoil the business yet it can be balanced through having a constant check on the services. It's important to balance the projects even during the emergency, check the models of outsourcing, and check costs, realistic expectations, benefits and risk management aspects.
It's also important that you feel comfortable to choose on one who is doing work and discuss your needs and concerns openly. Instead of hiring in-house book keeper an independent accountant can come once a month and perform all the work. However, it's your responsibility to make sure the individuals you use can cater the job necessities. Independent candidates are flexible and cost effective.
Focus On core activities and Innovation
Access to skilled resource with cost advantages
Continuity & Risk-sharing
Time zone advantage with fast and better service
Give your business a competitive advantage
Outsourcing comes with a tag of reducing overhead, companies don't have to just think on business aspects of profit making, off course business should make profit, but when you have the advantage of outsourcing, managements should also inventively think and create jobs to balance the act of outsourcing. Any business, should contribute to the state Community and socio-economic of the country.
A successful, outsourcing strategy can provide benefits and cost saving for a company – payroll process, cost containment, improved focus on business, talent pools and reduce time. However the risk of unsuccessful project can snatch all the benefits. So the risks have to be minimized by making a balanced and informed decision that can help minimize the risks and maximize the opportunities for outsourcing success.
Source
http://sapinsider.wispubs.com/Assets/Articles/2009/August/10-Steps-To-Outsourcing-Success
Do you agree outsourcing is not a bad idea when balanced effectively?
Don't Care
×