No Idea! What to wear this Diwali Festival, check out what is so trending
0 replies
Priya
22 Oct, 2016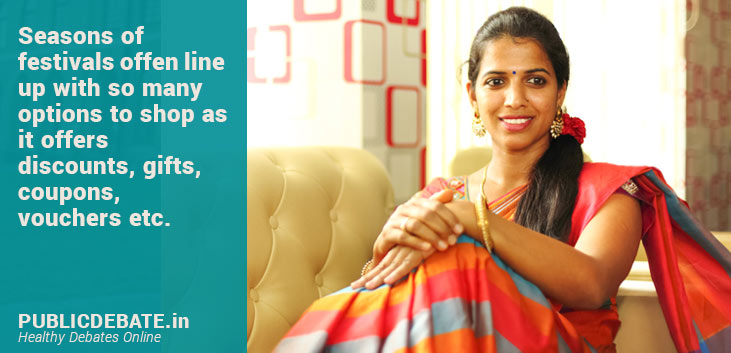 Uff! Finally here comes the seasons of festival and are you confused what to wearthis Diwali Festival? Then I can help you. Seasons of festivals offen line up with so many options to shop as it offers discounts, gifts, coupons, vouchers etc. This is when many of the online shopping portals, early morning newspapers drive us crazy with so much to offer and what not! They are so appealing and tempting doesn't mean you have shop anything out of trends, this season don't miss on this Diwali's fashion trends. So here are some tips:
Try multi colors with Polkas: Multi colors and weird combinations are trending these days. You can go for polka dots or simple lined designers this diwali. These polka dots don't look to traditional but can suit the season. If you're trying something apart from salwar or sari then these Polka dots is a perfect style to go with, similarly you can try different color combinations that are unique. Choose and match vivid, varied and bold colors this Diwali and create the latest trend for yourself
Anarkali Suits: Anarkali is still trendy yet popular. Anarkali can suit any occasion and gives a party look. That is the reason they are still in the fashion world. A long flowy, floor length Anarkali gown can be the latest trend of this Diwali. You can pick wide range of Anarkalis from simple, flair or one with the large number of Kalis that can look like a gown and like a salwar suit. Experiment with the new style and look cool!
Lehenga Dress: Go for a gorgeous straight cut lehenga dress that can suit on any crop tops. Beside the look they can give you a charming gaze this season. So, wear this with the huge danglers and bangles with a good hairstyle making it a perfect ethnic wear and one that makes you look different from others.
Sarees with designer blouse: Off course Sari is always Indian tradition with different styles, colors, designer blouse are so trendy and classy. They can suit any age groups especially the young girls. There are many extraordinary and attractive designer blouse patterns as per your taste and style. Jewelry is a must; pair them with your pure georgette, designer collection or silk saris for perfect festive look.
Kurtis with palazoos: The dazzling look of palazzos can grab an eye. Palazzos are available with many designs and fabrics. Verities can be chosen according to the taste. Net palazzos, designer palazzos, plain palazzos anything can be paired with a kurti or a suit this can attract everyone for the unique style during the season they are absolutely trendy, traditional yet classy to suit any occasion
Hope the above mentioned trends helped you to make a right choice to rock the season of lights. Some trends don't suit the body types but these trends can suit any body types that can be a best wardrobe collection suiting all the occasions. You can get the designers online or anywhere to make yourself look the best this season!
What are your argument points for and points against?
What do you think these are the perfect trends of the season?
Don't Care
×