Shoes to wear this season! How to choose the right shoes?
0 replies
Shivaranjani
14 Nov, 2017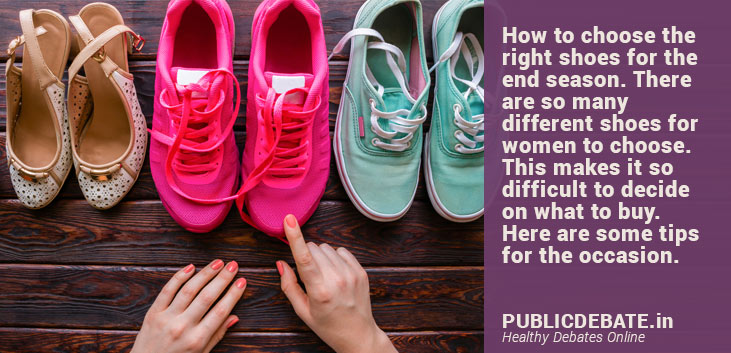 How to choose the right shoes for the end season. There are so many different shoes for women to choose. This makes it so difficult to decide on what to buy. After all, we need something trendy, comfortable and sturdy.
In addition, having to pick the large variety of shoes is no easy task in order to match the occasions. What is suitable for one occasion might not be suitable for the different occasion. There are some hard rules that make a perfect choice. You may be able to find some leeway trying to decide which to wear. Here are some tips for the occasion:
When you are running out of the list, you need something that is comfortable and spends a long period of time. Many people choose to opt for running shoes or athletic footgear in order to make the most of the time available. This type of footwear will offer you a great deal of support. If you want to remain stylish you can always opt for a comfortable pair of flats. You can also look for some celebrity styles and modify them. Most of us the copy the celebrity styles in order to stay trendy and classy
Outdoor shoes during cold weather your main concern is winter and stay warm as possible. This means having flats that are insulated on the inside. If possible, it is also a good idea to get a pair that is waterproof and prevent your feet from getting wet. They keep your toes toasty. If you need a pair a little more upscale you should consider boots in different style. This will make you warm choose boots that come up to your mid-calf.
Evening event the most common footwear for events such as dinners, parties or galas go for heeled shoes. They look elegant and more suitable give you the boost and look classy. Pair them while wearing a long dress. There are other possibilities available to you, however, if you want to wear high heels. High heels can be quite harsh on your feet.
A more comfortable option will be wedged shoes. They have sturdier heel and support to balance better. It is also becoming more popular and sophisticated flats for all the events. As long as the shoes that you wear go well with the expensive outfit you should not be afraid of wearing them.
Trends are changing means doesn't mean you have to stick to the same style for each situation. There are a lot more footwear options for women. When choosing shoes try the most comfortable shoes one with the top priority, and style for consideration. After all, it is what you wear to make look better.
Which shoes are more comfortable?
Don't Care
×