Should India explore and innovate to tackle Donald Trump's anti-outsourcing reform
0 replies
Shivaranjini
15 May, 2017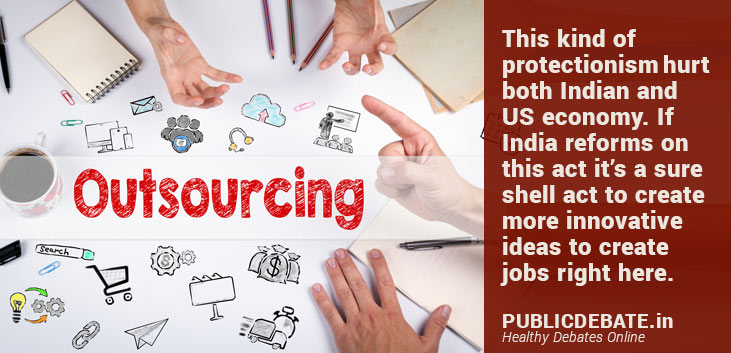 What is your take on Donald Trump's anti-outsourcing reform? Donald Trump is found of embedded controversies. This time it's bit different as the US president has called for "buy American and hire American" seems like a biggest reason for the Indian information technology (IT) industry to worry.
There is a raising concern over the impact of India's flourishing IT industry over the verdict. With the great hope of outsourcing transitions and progressing the skilled workers from India the outsourcing decision of Trump seems to brace the IT sector?
India as the largest outsourcing destinations for IT industry, it employs millions of workers. Will things soon curb under Trump's rule. Trump's promise during the campaign was to bring back jobs to US. Did this promise mean reduction of immigration to limit outsourcing work?
Most of the country's talented IT employees are exported to US. With the outsourcing act, the skilled worker visa program, H1-B regime all are cramped with which Indian firms send employees to US to service their clients. Industries are now really concerned with this decision.
Should the India's IT sector get worried about Trump's decision? From decades people in India have maintained Indian software companies with competitive environment.
India in fact has supported thousands of jobs in US and has paid billions of dollars and taxes. However for a business to stay feasible there shouldn't be a stop in outsourcing.
Said and done shouldn't we think going against outsourcing will make US lose jobs? This kind of protectionism hurt both Indian and US economy. Actually there is no effect on his announcements.
India has equally spent on dollars and taxes for US on outsourcing. As stated in Financial express Indian IT industry contributed nearly 411,000 jobs to US economy.
Indian tech industry has leveraged jobs to US economy boosting the global market share with Indian talent. With this definitely India will explore more on possibilities of creating employments.
It's a sure path way to develop skilled workers. The global economic sectors need trained resources in science, technology, engineering and skilled works.
Infact as a part of CSR activities Indian companies have spent on training people in US. They have specifically trained them on computers, teaching etc. These are specifications to show that Indian companies can bring something knowledgeable to create job.
If India reforms on this act it's a sure shell act to create more innovative ideas to create jobs right here. This can absolutely help the public. It's a mere clean assures for America that don't take away jobs.
If US is innovative, Indian companies have worked on contributing profits, shares and competitiveness in US. If outsourcing act protects Americans, Indian companies are sure to think of a reform.
Unemployment remains as an unsolved burden will this act at least help India reform on solutions. These can help them reform on training, innovations on new areas or sectors to create more jobs.
This anti outsourcing act can help India reform on alternatives and explore beyond the innovative ideas. Millions of talents can reform on ideas to protect the business and job fears.
There are many other ways to persuade outsourcing effects to renovate. Instead of Indian IT firms bracing against the anti outsourcing sentiment of Trump. Shouldn't we reform to explore and innovate job opportunities.
Do you agree- anti-outsourcing reform will help India Explore and Innovate?
Don't Care
×