Going cashless on Debit Card – Will it cost you extra?
5 replies
Manoj
09 Jan, 2017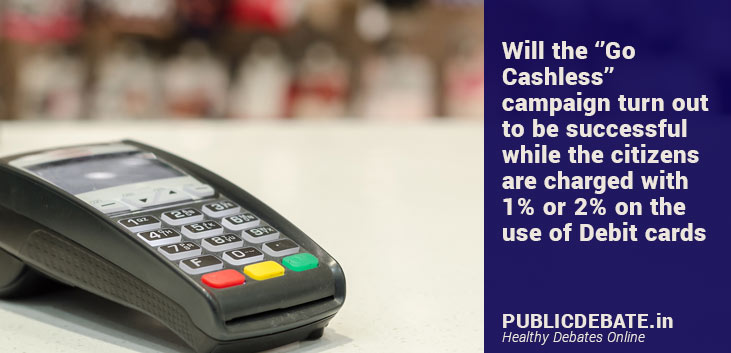 Ever since Prime Minister Modi announced to outlaw 500 and 1000 notes the impact of demonetization has been burning with many issues. Apart from the long queues and cash withdrawal limitations, citizens had to bare the services charges for debit cards too. Government have now decided to relive citizens with no service charges levied on the use of debit cards still December 31, well the question is will the government continue to charge after this time phase.
Will the ''Go Cashless'' campaign turn out to be successful while the citizens are charged with 1% or 2% for the use Debit cards, apart from other issues is "Go Cashless" drive offered only for limited period as mentioned will the government continue to charge us even after 31st Dec?
Did you Know! To an extent lot of Shopkeepers ask Cash or Card payment. If you say Debit Card they would certainly ask for extra 1% or 2% charges on debit card payment, which is a very wrongly practice.
As per RBI notification merchants cannot charge extra on Debit Card transaction, "Note it only mentions Debit Card"
4. Levying fees on debit card transactions by merchants – There are instances where merchant establishments levy fee as a percentage of the transaction value as charges on customers who are making payments for purchase of goods and services through debit cards. Such fee is not justifiable and are not permissible as per the bilateral agreement between the acquiring bank and the merchants and therefore calls for termination of the relationship of the bank with such establishments.
Notification: Pernicious practices of select banks deterring customer protection and accounting integrity
Don't you think Service charge on use of debit cards should be waived off
Don't Care
×