How to deal with someone who has travel-focused life?
1 replies
Shivaranjani
04 Oct, 2017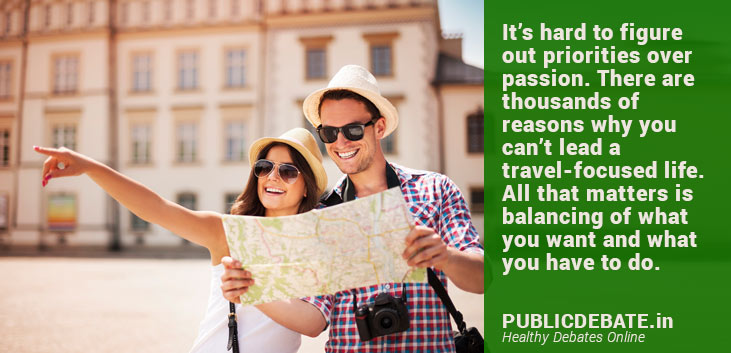 How to deal with travel-focused life if you're wanting to travel around the world, and felt like you needed to get there sometime? Most of us have felt that!
For many of us traveling is hard. Traveling is meant for lucky and wealthy people. How could it be possible for a common middle class or an average guy to travel for weeks, months or even years at a time?
What holds back for someone to deal with the travel love is lack of money or experience? Not all can spend on traveling forgetting the wealth or family part.
It's hard to figure out priorities over passion. There is really some good reason why someone doesn't want to travel or take it up as a passion. If you don't know the answer, it's easy just look at your bank statements, financial abilities, credit cards etc.
Check out if you have spent more on priorities. That is when you realize it's not easy to lead a travel-focused life nonetheless there are many ways to make it happen.
There are so many things to consider while making your dream come true. You have to earn money without a job, align your values and duties, reduce stress and do what you want. It's difficult to get started but then it's possible. We have lots of people traveling around the world, they aren't rich they are average individuals.
What is holding you back? Lack of support? Wrong time? No talents? All these are irrelevant. There are thousands of reasons why you can't lead a travel-focused life. All that matters is balancing of what you want and what you have to do.
Just think your work shouldn't exist merely to provide income for the rest of your life. Ask yourself how can I get started and balance both goals and duties. If your work supports your goals good if not it's time to make a change.
It's all about how you choose to make a plan. It's all about how you spend. Is that 5-star hotel really worth it or the twinkling stars? Yes, you can go for comfortable 3-star hotel and have little extra cash saved for the fun or exploring other new places. Do you need to eat in a restaurant or cook a breakfast and have a picnic lunch?
There are many ways to source your travel life. You have to learn to balance the art of passion with duties.You're not just meant to make money lead a peaceful life, enjoy the happy moments! So be smart and active enough to do what you want.
Is it good to deal a complete travel focused life?
Don't Care
×