Does daily revision of fuel prices help the common man?
0 replies
Shivaranjani
17 Oct, 2017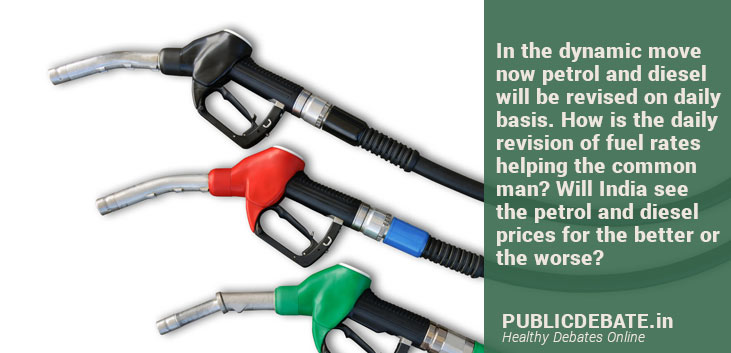 How does the daily revision of fuel prices help the common man? State-run fuel retailers like Hindustan Petroleum, Indian oil, and Bharat petroleum revise petrol rates on 1st and 16th of every month based on the international prices in the preceding fortnight and currency exchange rate.
In the dynamic move now petrol and diesel will be revised on daily basis.
While the fuel pump owner and dealers initially protested the modification the decision finally resulted in a positive outcome.
How is the daily revision of fuel rates helping the common man? Will India see the petrol and diesel prices for the better or the worse?
In one way the gradual change in prices would work better, consumers who faced and missed the fortnightly revision can make use of the change.
The drastic change of policy in one way isn't creating a great problem for the common man. Revising prices daily has the benefit of decelerating the shocks on monthly basis.
It kind of puts India together with the world. The influence of world's GDP has increased on India's GDP considerably.
It kind of ensures that common man can benefit from this integration as the cash flow improves companies can increase their business where the common man can benefit from the same.
The twist is governments can't manipulate the market.
We will get rid of the political drama and vote mercy acts made by these fuel pricing.
One of the most common ways government gets vote is through fuel pricing now there will be an end.
Apart from this move can lead to change in the price of essential commodities such as cereals, fruits, and food items.
Maintenance of cash receipt and accounts will become a longer process due to the daily change in the fuel prices.
Considering the geopolitical aspects greater reliance on the global market will have a drastic negative impact on the Indian consumers.
While on the previous practice common people had monthly saving or budget planned to fuel their vehicles.
Now with the scheme, it will kind of create imbalance over their financial dependency. Moreover, we have to depend on global prices a
This can lead to price instability in a wider context. It can either be positive or negative.
However, India is now in sync with global oil prices as India joins developed nations like USA, Japan, Russian and Germany it kind of ensures transparency in pricing of crude products.
All in all, this move is good for a common man if the scheme is administered fairly across the country.
Does daily revision of fuel prices help the common man?
Don't Care
×