Celebrity styles! The ultimate fashion trends do we really copy them?
2 replies
Shivaranjini
18 Apr, 2017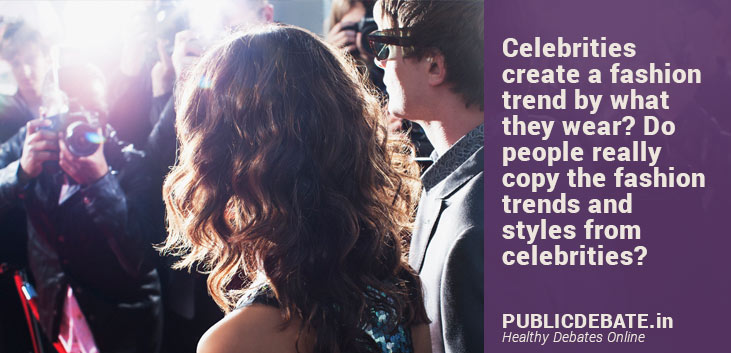 There is no doubt today's fashion have so many trends to follow from the image fashion designers and their favorite Celebrity Styles gives the way people choose to dress up everything sets trends. Celebrities create their own brands from the way they look, speak, dress and walk infact they are admired for specific style or a fashion exhibited at events or movies. They are always spotlights our eyes are constantly on these famous people and their appearance more than their performance so do celebrities create a fashion trend by what they wear? Do people really copy the fashion trends and styles from celebrities?
Well let's get back to Michael Jackson days how many white gloves did we see? Shiny hats, red jackets with the bunch of zippers? Well can you think of other fashion trend setting that made us celebrity copy cat? Some celebrities trends are great, others might be little strange but one thing is for sure we all fans love to copy some kind of their fashion trends be it the outfit, hairstyle, make up, accessories etc.
We know most the fashion styles are set by celebrities copied from the magazines, ads, commercials the fact is that these marketing gurus know that fans copy fashion trends of a celebrity that is why celebrity endorsements are the successful ways to promote products.




As known women admire and adopt fashion trends by celebrities and also from other online collections many popular TV shows exhibit celebrities from head to toe, from the gowns and suits worn by movie stars, musicians are commented as well as hair, makeup, shoes and jewels they wear. Either way, a celebrity's style is always in the spotlight and fans will always copy celebrity fashion trends. Even though not all the stuff are affordable or available intensive preparation are made to match implies of the look.
The online sets offer more information on what the stars are wearing with latest photos spread across the web whether it is hairstyle, make up, fashion seasons, colors in defining celebrity style, fact is that celebrities can influence people options on fashion and looks. Fashion trends are set and imitated on these basis however not that people don't choose their own trends and collections yet these celebrity styles are quit adoptive and influencing on styles to follow because nobody loves to fall apart from the trend setting fashion world.
Source
http://www.celebritysparkle.com/celebrity-style/
Do agree people copy fashion style from celebrities?
Don't Care
×