1.3 Billion Population yet only 9 Gold Medal in Olympics till date for India
0 replies
Shivaranjini
15 May, 2017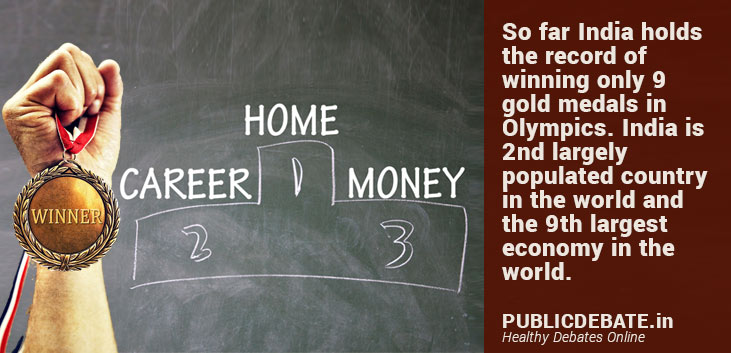 Yes, there is not a single denying fact that India having such a huge population is not able to win only 9 gold medals in Olympics till date. India's population increases day by day, soon the population will lag china behind, so the question here is why India is lagging in sports? What are the major reasons?
The very first answer for this could be awareness and interest, next is funds, infrastructures so on and so forth. Playing sports is not an easy task. As the financial security and political system lag In India many of them opt for high profile jobs rather than sports.
Our population is large and very talented but few obstacles stop there infact many of them cannot afford on training facilities at a global level.
Why is India falling apart from the other countries? Countries like China, Cuba and North Korea invests heavily in nurturing the athletes but how much is Indian government interested in rearing the national prestige.
Some countries have government centralized sports system like say China. There are government run training centers at all levels- national, state and local levels. All the sports expenses are taken care by the state government; aspiring candidates are provided rigorous training to excel in the field.
But in India mainly the support for sports expenses comes from the family. That is when parents too don't like to encourage kids to practice sports and take up as a career. Infact sports are turning out as a recreation for many.
Apart from this, factors like health, education and public information have limited the participation in our country. Apart from cricket other sports in India still needs to gear up.
Many potential athletes go unnoticed due to the communication gap or no proper guidance given to sports man or woman at the initial level with secure sports career in place, only if a person is heard and known then get noticed after Olympics/Common Wealth Games, it is then they are bombarded with gifts, assets, jobs, cash, endorsements etc before that will the person get anything at least a basic free training? Not possible. Like we saw in case of Dipa Karmakar Luxury Car gifted after she finished 4th position in Women's artistic gymnastics event in Rio Olympics 2016
Also corruption, poor governing bodies, poor management has put off the aspiring Indian sportspersons. Don't we need passionate sports governing ministers and authorities? Many of the sport's governing bodies are not from the sports background.
In India anybody and everybody can become a sports governing authority. That is when the system is all on scrap board having no strategic idea on sports requirements and developments.
These can be few reasons. Apart from that my question is?
1.3 billion Population and just few gold medals? Let's begin with the fact that – India is the largest democratic country but unfortunately India wins fewer medals for every person compared to other countries. So far India holds the record of winning only 9 gold medals.
India is one of the oldest nations in the country and 2nd largely populated country in the world and the 9th largest economy in the world. Largest democracy in the world. But certainly India is not good at winning medals at Olympics. Why?
Do you agree India is lagging in sports? Why
Don't Care
×