What does 360 degree branding means?
0 replies
Shivaranjani
17 Oct, 2017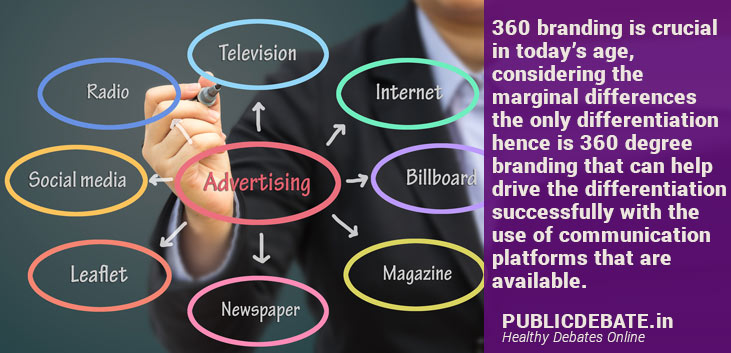 Marketing communication is transmitting the world. In order to adopt the changing trends 360 degree branding and other concepts where introduced.
With the profusion of media platforms, marketers are in a constant dilemma over the approaches for marketing communication.
From the past few years, the constant debate over the role of 360 degree branding is never-ending.
I believe the marketing world needs a blend of 360 degree branding with integrated marketing communication.
For take campaigns that are active currently in media. Nestle, for instance, could have tied around magi crisis with 360 degree branding approach in India.
Print media ads could have kept the consumer's posted on progress, PR could have leveraged the transparency while online platforms could have reinforced the brand context through engaging campaigns using a carefully integrated approach for 360 degree branding is a must.
David Ogilvy quips way back in 1955, "Every advertisement must contribute to the long-term image of the brand." So remember every initiative by a brand contributes to its brand image and reputation.
We all have witnessed crisis management, PR management and case studies.
For example way back in 1982, Johnson & Johnson Tylenol medication resulted in panic and death of seven people but how is the brand living still date? The answer is simple they acted quickly, removed any source of danger, took up an effective measure, reassured consumer's safety.
Hence the approach was simple it kind of waved some coverage on media as a crisis management exercise etc.
Further to this, we all have seen viral phenomenon strategy.
Be it the BTL activity or a big-time campaign it has to contribute towards brand recognition in long run.
Sorting out the brief example I bet you need a better explanation. Well, making it simple now let's understand what is 360 degree branding?
Once you introduce a brand in a relationship with the consumer, then everything that touches or affects that relationship or that communicates the brand becomes an important part of brand building.
In 360 degree branding, there are countless ways to communicate with a consumer and all this points out the need of umbrella strategy to work in harmony-360 degree , requires multiple people to work as a team for a brand.
The concept is more about the understanding of how the consumer perceives the brand and it takes many related factors into consideration.
360 branding is crucial in today's age, considering the marginal differences the only differentiation hence is 360 degree branding that can help drive the differentiation successfully with the use of communication platforms that are available.
Today 360 degree branding opens up the opportunities that can truly contribute towards the brand building as a whole. This era internet is shaping the life.
The internet today plays the prominent role it provides multiple opportunities for the brand to be perceived. This is predominately used by 360 degree branding campaigns.
In 360 degree campaign brand must reflect on the consumer's insight. Like in B2B the equation is bound to change, likewise in FMCG advertising is followed by outdoor, BTL, Digital or PR.
The global startup phenomenon follows the mix of PR and Digital aspects in order to build a Brand.
Hence 360 degree campaigns are no big secret. However, the blending of integrated marketing communication with clear-cut consumer insight plays a major role to build a Brand.
Is 360 Degree branding effective over integrated marketing communication?
Don't Care
×